Digital converter Z-8TC-LAB
February 27, 2021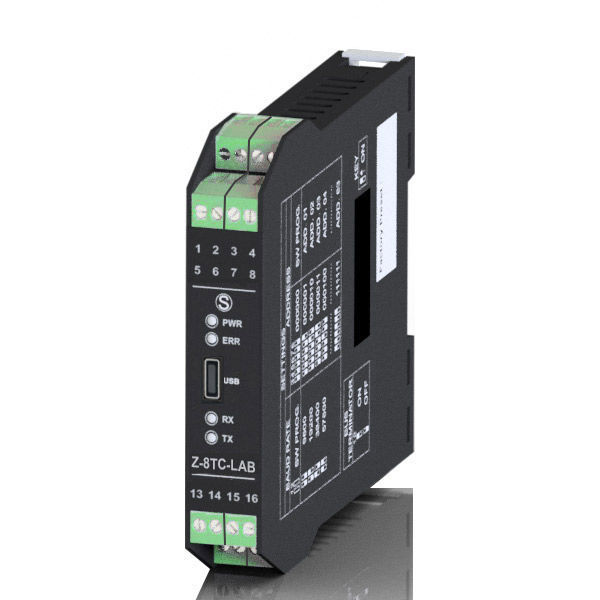 CHARACTERISTICS
Type

digital

Bus

serial, Modbus RTU

Applications

for thermocouples

Other characteristics

isolated, line
DESCRIPTION
Z-8TC-LAB
CH-8 thermocouple input module / RS485 with two-way pull-out terminals
The Z-8TC-LAB is a digital thermocouple converter, with eight measurement channels, isolated from the power supply and serial communication line up to 1.5 kVac. The same isolation is provided between channels belonging to different groups of terminals: the module has total isolation of six points.
This laboratory version, compared to the more well-known Z-8TC-1 converter, is characterized by two-way terminals and the same input wiring for both the upper terminals and the lower terminals in order to facilitate quick couplings.
TECHNICAL DATA
ORDER CODE :Z-8TC-LAB
DESCRIPTION:CH-8 thermocouple input module / RS485 with two-way pull-out terminals
POWER SUPPLY:10..40 Vdc; 19..28 Vac (50-60 Hz) bus powered
DIMENSIONS WXHXD:17,5x100x112 mm
MOUNTING:DIN 46277, 35 mm symmetrical rail
INSULATION:1,5 kVac @ 6 way
DATA ACQUISITION:Every 25 ms
ACCURACY:0,1%
INPUT:CH-8 thermocouple type J,K,R,S,T,B,E,N or shunt up to 70 mV
COMMUNICATION:RS485 2 wire, ModBUS RTU slave protocol
PROGRAMMING:Via software using the microUSB port on the front panel or DIP-switch
SHIPPING AND EXPORT INFORMATION
PRODUCT CODEZ-8TC-LAB
GROSS WEIGHT kg0,16
ORIGINIT
TARIC85389091
ECCN5A991