HMI with touch screen VISUAL3
January 26, 2021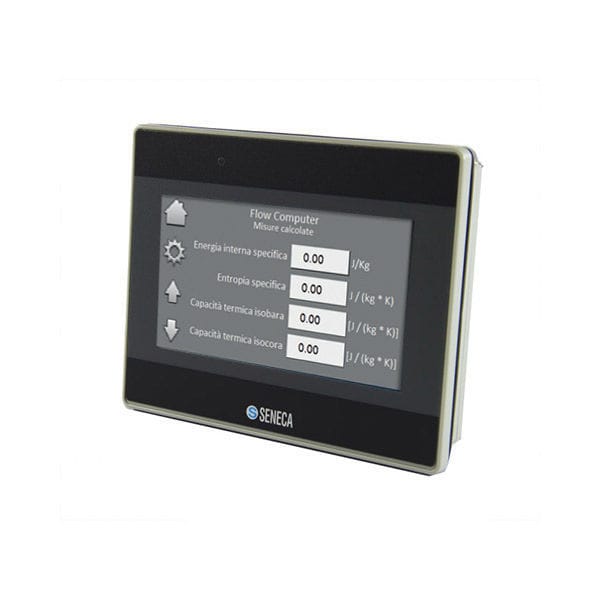 CHARACTERISTICS
Interface

with touch screen

Mounting

panel-mount

Resolution

480 x 272

Processor

RISC, ARM Cortex-A8

Other characteristics

TFT LCD, Ethernet, USB, RS232

Applications

display, industrial

Screen size

4.3 in
DESCRIPTION
VISUAL3
4,3″ HMI panel touchscreen with Ethernet port
SENECA expands its offer for the Z-PC with VISUAL, the new range of operator panels suitable for the most common industrial controllers and supervisory/automation systems.
VISUAL3 is a 4.3″ HMI equipped with a powerful 600 Mhz Cortex A8 CPU, 128 MB di RAM, high quality display LED backlights with a 480×272 pixel resolution, 2 serial ports (Nr. 1 RS232 e Nr. 1 RS232/RS485) and one Ethernet port 10/100 BaseT.
Thanks to its USB 2.0 port (host) at the bottom of the panel you can easily transfer data. 128 MB of flash capacity permits you to download projects up to 16 MB and logs/sample datas up to 48 MB.
TECHNICAL DATA
ORDER CODE :VISUAL3
DESCRIPTION:4,3″ HMI panel touchscreen with Ethernet port
POWER SUPPLY:24 Vdc
POWER CONSUPTION:300 mA @ 24 Vdc
DISPLAY:4.3" TFT LCD, 480×272 px resolution, 16M colors
TOUCHSCREEN:Resistive 4 wires
CONNECTIONS:Nr. 1 USB Host 2.0 port
Nr. 1 RS232 port
Nr. 1 RS232/RS485 port
Nr. 1 Ethernet 10/100BaseT port
OPERATING TEMPERATURE:-20..+60°C
PROTECTION DEGREE:NEMA4 / IP65
CPU:32 bit RISC cortex A8 600 MHz
FLASH MEMORY:128 MB
RAM:128 MB
RTC:built-in
DIMENSIONS (WXHXD):128x102x32 mm
WEIGHT:250 g
STANDARD:CE
SHIPPING AND EXPORT INFORMATION
PRODUCT CODEVISUAL3
GROSS WEIGHT kg0,62
ORIGINTW
TARIC85312040
ECCN4A994